Description
Buy TB500 & BPC-157 Mix Nasal Spray Japan
This product is intended for research and medical purposes only, to be only used by trained professionals.
TB500 & BPC-157 peptide mix is clinically developed to boost maximum recovery, healing time, joint flexibility, and protection against injury.
TB500 & BPC-157 peptides mix supercharges all-natural recovery and regenerative process, enabling optimum healing and prevention of injuries. Together with a boosted rate of angiogenesis (capillary manufacturing), upregulated actin, and also cell movement, there is a raised expression of important repair service elements such as VEGFR2 and also EGR-1.
Each of these specific all-natural feedbacks integrates to advertise innovative regrowth and also healing. Faster damaged cells repair service commonly brings about a much faster go back to a pet's pre-injury toughness, wheelchair, as well as adaptability.
TB500 & BPC-157 peptide is mixed with bacteriostatic water to make nasal sprays.
---
BPC-157 SPECIFICATIONS:
Sequence: Gly- Glu-Pro-Pro-Pro-Gly-Lys-Pro-Ma Asp-Asp Ala Gly Leu Val
Molecular Formula: C62H98N16O22
Molecular Weight: 1419.556
Storage: Lyophilized peptides stored below -18°C.
TB500 SPECIFICATIONS:
Sequence: Ac-Ser-Asp-Lys-Pro-Asp-Met-Ala-Glu-Ile-Glu-Lys-Phe-Asp-Lys-Ser-Lys-Leu-Lys-Lys-Thr-Glu-Thr-Gln-Glu-Lys-Asn-Pro-Leu-Pro-Ser-Lys-Glu-Thr-Ile-Glu-Gln-Glu-Lys-Gln-Ala-Gly-Glu-Ser.
Molecular Formula: C38H68N10O14
Molecular Weight: 4963 g/mol
Storage: Lyophilized peptides to be stored below -18°C
Research use only. Not for human or animal consumption!
---
Certificate: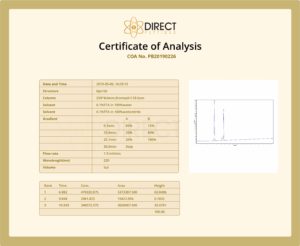 ---
DISCLAIMER:
We do not supply peptides to Any individual under the age of 18. You must be a licensed and qualified healthcare practitioner. Our team of dedicated professionals are committed to providing an extensive range of products used in the process of medical research by responsible trained and professional individuals. All products listed on this website (https://direct-peptides.com) and provided through Direct Peptides are intended for medical research purposes only. Direct Peptides does not encourage or promote the use of any of these products in a personal capacity (i.e. human consumption), nor are the products intended to be used as a drug, stimulant or for use in any food products.
Buy TB500 & BPC-157 Blend Today From Direct Peptides, a trusted supplier!